As you know, I've spent the last 2 weekends selling my Happy Baby Designs stuff at some local craft fairs. It's been a looooooong couple of weeks, but it was so much fun and I met some awesome women. These women are super cool and also happen to be super talented! So I want to take this opportunity to introduce you all to them.
First up is Anna from The Joy Cottage. She has some mad quilting skills and I just love all of the fabrics she uses. And as if she's not busy enough with her business, her 2 year old son, and being a college student, she's also working on launching her own fabric line and quilt patterns! You can learn more about that project at The Striped Feather Company. Go check out her blog and her Etsy shop, and I promise you won't be disappointed!
I've got my eye on her Family Name Pillows ;)
Next is the lovely Sarah Zamora of Original Youth. I am so in love with her colorful portraits of women. She also paints some amazing abstracts. If you're in the DFW area, chances are, you've seen her work at craft fairs and even some local galleries. This girl is everywhere and seriously is going to be famous someday. She also happens to be super sweet and down to earth and it was a privilege to get to know her.
Go visit her Facebook page to see more pictures of her beautiful paintings. Or better yet, "Like" her on FB and find out about her next event and go see her in person!
Meet Rachel from 3 Bears Studio. I was lucky enough to be her neighbor at the Cowtown Indie Bazaar. We bonded over bathroom breaks and chocolate. She paints the sweetest animal pictures with the cutest sayings on them. These would be so cute in a nursery or little kids room…or anywhere in my house! She definitely has her own style and the colors she uses are just awesome!
This is one of my favorites.
I am bummed that I didn't get a picture of my friend, Tamara from Pegged, at her Funky Finds booth, but I still have to introduce you to her. She makes the cutest "peg people" I have ever seen. Actually, I've never seen anything like these so not only are they cute, but they're also totally original!
Seriously, is this not the cutest thing you've ever seen? Perfect for that Star Wars lover in your life!
And how about these custom wedding cake toppers painted to look like the bride and groom? I LOVE this idea!
She has so many other cute peg people, including a princess set, peg doll necklaces, and custom family sets. You have to go check out her store!
And last but not least is Jenn from Hippie Bliss (with her adorable daughter). Jenn makes the cutest mixed media, decoupaged matchboxes. Who knew matchboxes could be so stylish?
She also makes beautiful jewelry. She uses antique pins and brooches and mixes them with modern beads to create stunning, one-of-a-kind pieces. I love the combination of purple and orange in this necklace.
P.S. She's a sucker for Peanut M&M's! ;)
And finally some pictures of my booth from the Cowtown Indie Bazaar. (To see pics of my booth from the Funky Finds Spring Fling, go here).  I feel so fortunate to be a part of this amazing, handmade, indie artist, small business, community of women.
I hope you've enjoyed meeting these amazing women. Go check out their shops and you might just find something you can't live without ;)
And don't forget to come back tomorrow for our third installment of "Truth Be Told Tuesdays." I really missed it last week!
Linking up here: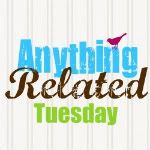 Get Your Craft On