So if you've been reading my blog, you know I am preparing for a living room/dining room makeover. This room doubles as my guest room/craft room, so it serves MANY purposes. Anyway, since it's a large room and there is A LOT I want to do in there, I've already starting working on some projects. Check out the CD Rack I turned into a
Fabric Rack
. I'm already feeling more inspired in there!
Since my dining room table is also my
craft table
, I wanted all of my crafting supplies to be portable. That way when we need to use our dining room table for its intended purpose, I can
quickly pick up
all of my crafting supplies. So I came up with the idea of using a
tray
!
Trays are not exactly an original idea, but they've never been useful for my lifestyle. I don't find myself bringing my husband his morning coffee in bed, or taking fresh squeezed lemonade out to the porch, or whatever romantic purpose people in magazines use them for. But now I have a use for one!
I've actually had this tray for a LOOOOOONG time. I bought it at an estate or garage sale (I can't even remember it's been so long). It's traveled with me through several moves because I just KNEW one day I would find a use for it.
Here's what it looked like when I bought it...
Let me give you a close up of that beautiful design...
So the first thing I did was prime it and paint it. Already it looks a million times better!
But of course I couldn't just leave it like that. Too boring! So I Mod Podged some cute scrapbook paper to the bottom. I did have to piece 2 pieces together and that was a little tricky to get the pattern to line up, but other than that, this project was so simple!
So cute, right?
I can just load up all of my
stuff
and set it out of the way. Quick, easy and most importantly...cute!
So I'm sure you noticed my yellow canisters labeled "coffee" and "nutmeg" and are probably wondering what those are doing on the tray (since I already told you I don't take my husband his morning coffee in bed). These are part of a set of 6 antique canisters that I picked up at an antique mall because 1) I loved them! 2) they are perfect for storing all of my notions that I don't want "out" and 3) I loved them! Stay tuned to see how exactly I plan to use them in my NEW CRAFT ROOM!
Linked to: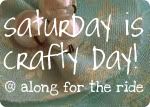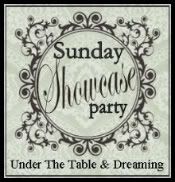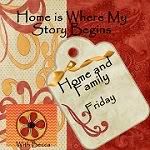 Show and Tell Friday with
This Romantic Home