I am in the process of redoing our master bedroom and I was looking for something to hang on either side of our bed above our nightstands. I had been seeing tutorials all over blogland for Subway Art and I knew this would be the perfect artwork to hang above my nightstand.
I had this wooden box that some of my children's play food had come in. Since we never put the play food back in the box, I decided it would be the perfect "canvas" for my subway art project.
The first thing I did was decide what I wanted my subway art to say. A lot of people use family rules but since mine was going in our bedroom, I wanted it to be something about love, family, marriage, etc... I found a quote that my husband and I both liked and got to work.
I had some leftover self-adhesive letters from a previous project and I decided they would be much easier to use these rather than printing, cutting, adhering, etc...
After I primed the "canvas", I measured my letters and my canvas, plotted my design...
and began adhering my letters. This part is kind of a pain, but you want to make sure to get your measurements right so everything fits and is fairly even. (My 3 year old wanted to help so I let him be in charge of the camera. Not too bad!)
Here's what it looked like after putting all the letters on.
Next, it was time to paint the canvas. Most of the subway art I have seen has been black with white letters. Unfortunately the black and white didn't really fit with the color scheme in our bedroom so I decided to use a reddish color instead. I didn't like any of the colors that I already had and I see people mix their own paint all the time, so I figured I'd give it a try.
A little red, a little brown, a little yellow and voila!
Then I peeled off the letters.
You can see in the close up below that the red paint bled a little under the letters. I just took a white paint pen and cleaned up all the edges.
I didn't like the stark white letters, so I mixed a little bit of light brown paint with some water until it looked kind of like coffee with a lot of cream (only runnier).
I went over the entire canvas with this paint/water mixture. I tried not to make it a consistent finish in any one area so it would just look aged, not dirty.
Then I sanded the whole thing. Again, I sanded some areas more than others until I got the look I was going for.
Finally, I applied a wood stain to the entire canvas using a rag. I wiped off most of it as I went since I just wanted it to add a touch of dimension, shine and protection, not change the color dramatically. And here's what I ended up with.
Not bad for a project that cost me NOTHING! This will hang proudly in my soon-to-be-newly-remodeled master bedroom.
Linked to:
Making Monday Marvelous
by
C.R.A.F.T.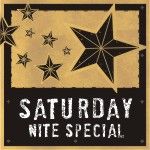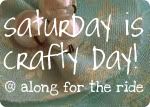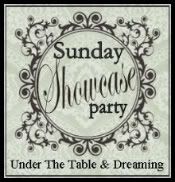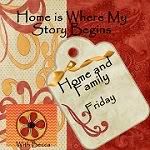 Show and Tell Friday
at
My Romantic Home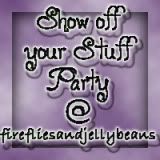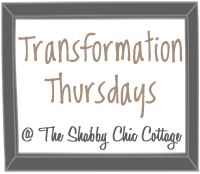 Spotlight Yourself Wednesday
with Santa's Gift Shoppe